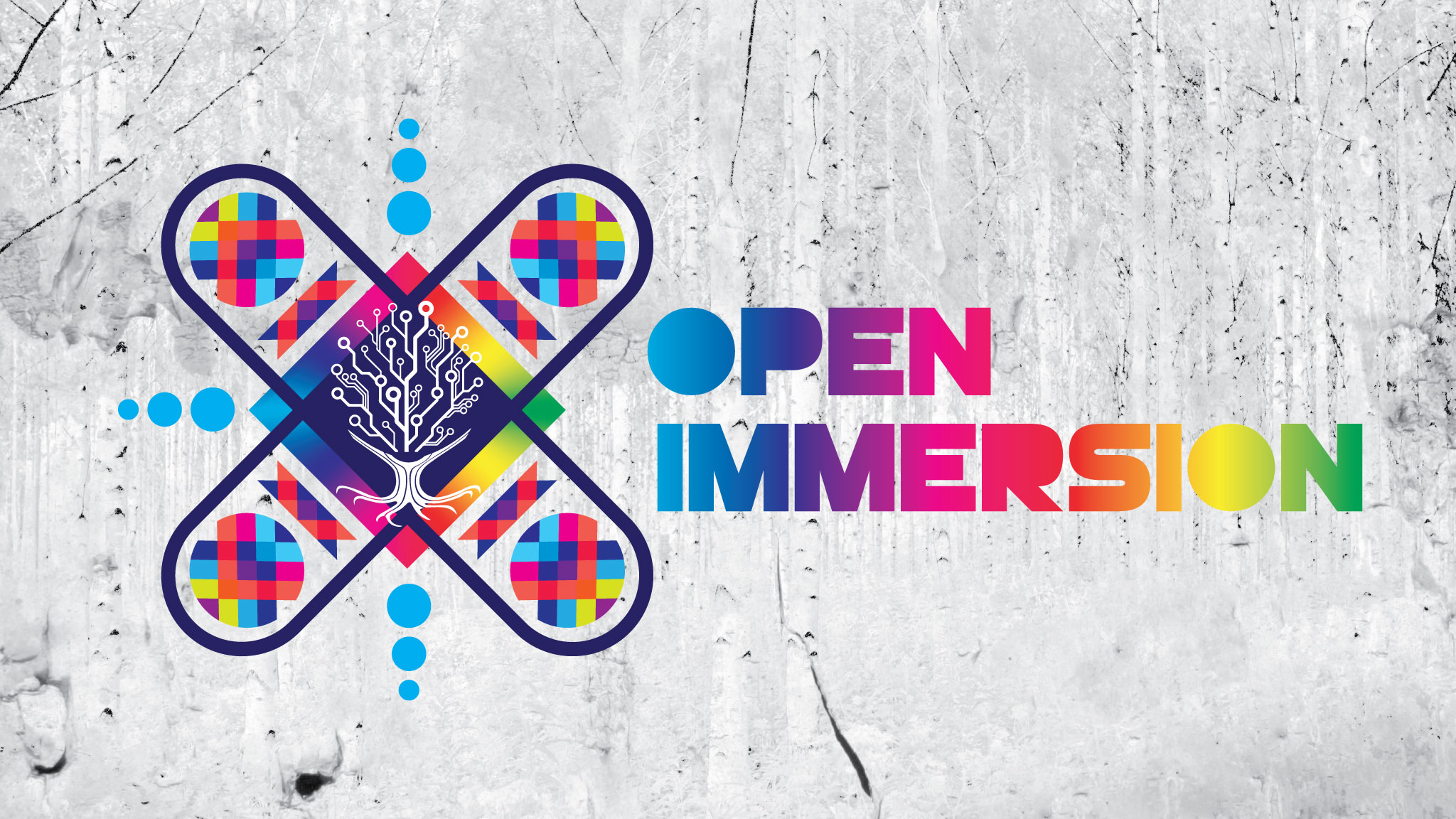 Creative Doc VR Lab
Open Immersion II supports the building of VR practice from the POV of Indigenous creators across Turtle Island. The three-part virtual lab offers mentorship, resources, creative ideation and development, and the opportunity to present final pitch packages to key industry members at imagineNATIVE 2020. The lab will build creator capacity to work in VR, support the development of six non-fiction VR projects by six creators, and break barriers to new technologies. Produced in partnership with the Canadian Film Centre and imagineNATIVE Film + Media Arts Festival, supported by the Ford Foundation.
Angel Aubichon was born and raised in Northern Saskatchewan in the Flying Dust First Nation. Her family is Peepeekisis Cree, and Angel was influenced by her mother's sense of elegant and contemporary urban style. Also influenced by her grandmother, Angel learned the art of traditional Indigenous beadwork and embroidery. These women in Angel's life inspired her to create Indi City, which she co-owns with her partner, Alexandra Manitopyes. Indi City produces authentic handcrafted beaded jewelry, including earrings, necklaces, chokers and beaded hats. Their one-of-a-kind, signature wearable technology project, "The Matriarch Speaks," was featured on the runway at MakeFashion 2017. Indi City embodies fashion innovation and Angel's cultural roots; its accessories are infused with tranquil floral patterns, feminine energy, and whispered stories within each piece.
Bettina Escauriza
Creator
From Asunción, Paraguay, Bettina Escauriza is a filmmaker, writer, artist, and actor living in Philadelphia. She is a natural storyteller from a family of frustrated mystics, spectacular liars, ill-fated thieves, and awful politicians. Her work deals with Indigenous knowledge, colonization, immigration, anarchism, and exile. Her aim as a filmmaker is to tell stories about Indigenous people and people of colour that are lush, sensual, thrilling, and complex—to tell the truth about the communities she comes from by centring narratives of joy, defiance, and resistance in the face of oppression. Bettina does international human rights work at the United Nations, focussing specifically on the role of Indigenous peoples and Indigenous knowledge in mitigating the climate crisis.
Bettina is a Sundance Knight Foundation Fellow, a Flaherty Seminar Fellow, an October Colony Screenwriters Residency Fellow, a Research and Curatorial Fellow at Slought (UPenn), and an iEAR Fellow (RPI).
Raven Two Feathers
Creator
Raven Two Feathers (Cherokee, Seneca, Cayuga, Comanche) (he/they) is a Two Spirit, Emmy Award-winning creator based in Seattle, Washington. Originally from New Mexico, they spent their childhood moving and exploring Indigenous cultures across the continent and Pacific. They started making films in Hawaii after they enrolled in a film elective, putting them on the path they'd dreamed of since they were three years old. They made their first explicitly Indigenous film during Tracy Rector's SuperFly program. They returned to New Mexico to attend the Santa Fe University of Art and Design, graduating magna cum laude with a BFA in Film Production. After graduation, their path led them to working on and creating more Indigenous art than ever, and things began to feel right. They have been able to explore new mediums without the Western fear of imperfection hindering them. They recently released a comic-based zine, Qualifications of Being, about their journey of realizing that they are trans and Two Spirit. They are completing post-production on a VR experience in which the viewer rides alongside them on their drive to top surgery. The process is long and difficult but filled with the laughter, care, and openness they'd dreamed of seeing as a child. They continue to grow and explore their practice through the people they meet and the stories that guide them.
Rose Stiffarm is a Blackfoot filmmaker, artist, and educator from the Siksika Nation, with family from the Cowichan, Tsartlip, A'aninin, and Nakoda Nations. She was born and raised in Seattle, Washington. When she was young, her dad would give her cameras so that she could take pictures, and she'd fight to make her own home movies with a VHS recorder. Rose made her first short documentary in an afterschool film program through the Ijo Arts Media Group and later became involved with Longhouse Media as a board member and youth film mentor.
Rose moved to Vancouver, BC, in 2009 to formalize her film training and to work in film and television. Rose is an alumna of Capilano University, where she received her Diploma in Indigenous Independent Digital Film, Certificate in Cinematography for Film & Video, and a bachelor's degree in Motion Picture Arts.
In 2018, after working on a number of independent and industry film and television projects in BC and the US, Rose moved to Montreal to further advance her education and grow her network. She is now a member of the Directors Guild of Canada and is working towards her master's in Film Studies at Concordia University.
Samay Arcentales Cajas
Creator
Samay Arcentales Cajas is a queer (Kichwa) digital media and community artist and filmmaker based in Toronto. Through her works she explores how to meld Indigenous cosmology with technology, seeking to bring to light ancestral truths. Her works have been shown at the imagineNATIVE Film + Media Arts Festival, the aluCINE Latin Film + Media Arts Festival, the Mayworks Festival of Working People and the Arts, and the Paprika Festival, among others.
Samay has also facilitated film programs at Sketch Working Arts, including Fluidity on Film, a film program for 2SLGBTQ youth. She held her first solo show, "Will You Listen?: Latinx Voices in Tkaronto," a projection-based media installation at the Whippersnapper Gallery, in 2017. Samay has worked as a video designer, production designer, and editor for Indigenous artists and filmmakers across the country, including on the experimental film Dreams Untold, written and directed by Jamie Whitecrow, the futurist documentary The Ceremony, directed by Taina Da Silva and Becca Redden, the short film Paladin, directed by Lu Asfaha, and various creative works for Cheryl L'Hirondelle and the Chocolate Woman Collective.
https://samaycajas.com/
Terry Jones is an enrolled member of the Seneca Nation of Indians, who are located in western New York. Terry has a passion for sharing his Haudenosaunee (Iroquois) history and culture through his film works. He strives to find a balance between entertaining and educating his audiences. In May of 2016, Terry graduated summa cum laude from Syracuse University with a bachelor's degree in Film. Terry's short films, many of which were co-directed with Indian filmmaker Govind Deecee, have found success on the international festival circuit. His 2016 short doc
Soup for My Brother
was awarded Best Documentary at the 2016 Liverpool International Film Festival in the UK, and
Give and Take
(co-directed with Deecee) won the Emerging Filmmaker award at the 2015 LA Skins Fest in Los Angeles. His experimental short
Scarlett
, co-directed with Deecee and Akshay Raheja, was made while he was studying 35mm film production at the FAMU film school in the Czech Republic, and received a Special Mention at the 2016 Arte Non Stop Festival in Buenos Aires, Argentina. Many of Jones's short films are distributed by the Canadian Filmmakers Distribution Centre (CFMDC) in Toronto, including
Soup for My Brother
,
Empire State
,
[untitled & unlabeled]
,
Ode to the Nine
and
Gik:skwod
.
Terry intends to pursue a master's degree in Film Studies in the fall of 2021. Eventually, he wants to be an accomplished filmmaker and a professor of Indigenous media studies. Like many other Native communities, his home territory is confronted with many issues that negatively impact its quality of life (loss of language, drug abuse, diabetes, environmental dangers, public safety and injustice). It is his hope that his future film projects will promote and facilitate dialogue that can lead to changes in public policy in his home territories and on the federal and global level.
Official website: www.tornjerseymedia.com
Instagram: @cornsoupman, Twitter: @cornsoupman