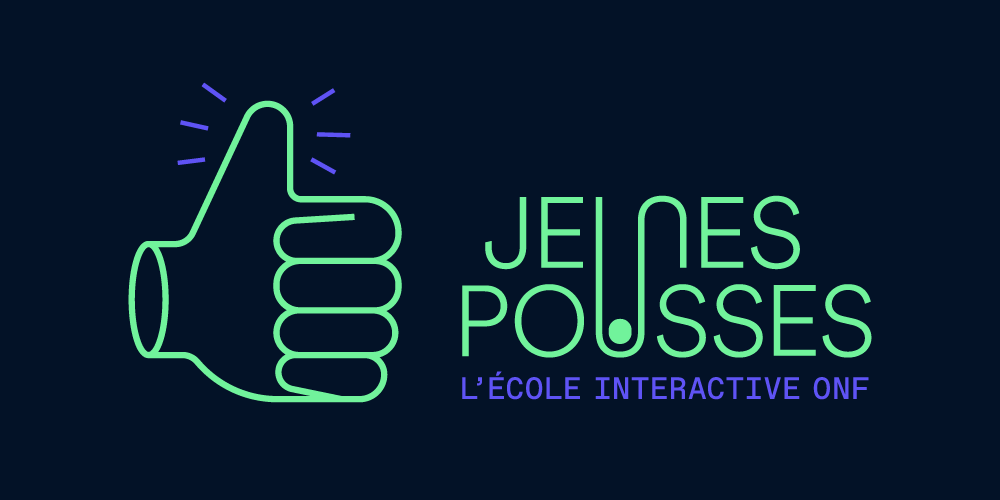 Jeunes pousses Digital Apprenticeship
THE NFB'S JEUNES POUSSES DIGITAL APPRENTICESHIP PROGRAM IS BACK AND BETTER THAN EVER!
The fourth edition of the program will see six students take part in an internship at the Interactive Studio. Originally launched with UQAM in Montreal, this paid internship is now open to all students in all universities, as well as all CEGEP students in the last year of a trade program, as long as they are enrolled in the current academic year (2022–23). 
Over 14 weeks, from April 25 to July 29, 2023, the selected applicants will conceptualize and produce an interactive experience for mobile devices.
Throughout the process, the students will be mentored by members of the team at Akufen, which has a longstanding relationship with the NFB. This renowned Quebec-based studio, founded in 2007, is well known for the magical experiences it has produced for digital platforms. Akufen has received multiple awards and distinctions worldwide, including at Numix, the FWA, the Boomerang awards and the Awwwards. Akufen's strength is its storytelling genius, channeled into original, evocative digital projects. They are the ideal partners to provide support, guidance and tools to young artists engaged in the creative process.
This apprenticeship is an opportunity for students eager to explore new narrative formats and test out what they have learned, their sense of initiative and their knowledge in a real-world production context. As one of the pioneering forces in digital creation in Montreal and internationally, the NFB is a great launching pad for a professional career, and upon completing their Jeunes pousses internship, the selected applicants will have an impactful, meaningful addition to their resumé.
How it works
Design, from end to end, an interactive experience around the theme

Optimus

;

Create a short interactive experience designed for mobile screens in website format (i.e., that runs in a browser) using HTML5, CSS and JavaScript;

Use material that is entirely original and/or royalty-free;

Develop a content strategy for the distribution of the interactive experience;

Be 18 or older;

Be a Canadian citizen or permanent resident or have a visa that allows you to be paid and is valid for the full duration of the internship;

Be available for an orientation/start-up day;

Take part in the paid internship for its full 14-week period, i.e., April 25 to July 29, 2023.

Please note that the internship will be in French.

The theme: Optimus
For this latest iteration of Jeunes pousses, the NFB's Montreal Interactive Studio has chosen a forward-looking theme: Optimus.
In these anxiety-inducing times, with our daily lives impacted by the climate crisis, the atrocities in Ukraine, the fallout from the pandemic and no shortage of other distressing headlines, looking to the future through a more optimistic lens is practically therapy. Inspired by the Latin word optimus, which means "better," the chosen theme is well suited to adopting a positive vision of the future. The idea is not to deny the upheavals that are constantly changing our world, but to embrace what they represent to us and use that as fuel to imagine a project that speaks to renewal, beauty and light: to the idea of rebirth. 
This starting point is provided to you to prompt highly personal introspection toward a vision of "what comes next." Your interactive work might take the form of a utopia, a project that inspires hope, a challenge for the future, or an optimistic reflection on the current context.
As a student, what original story do you want to tell around the theme Optimus? What perspectives are worth highlighting, in your opinion? What are the things that give you hope?
Internship schedule
The internship schedule will be as follows:
Fourteen weeks comprising two in-person sessions each week, one at the NFB and the other at Akufen, plus a half-day per week of teleworking, adjustable according to production needs. The terms and conditions may be subject to adjustment according to the sanitary measures in force and the needs of production.
Compensation
Each student selected will sign a contract for services and receive a gross weekly stipend of C$400 (four hundred dollars Canadian) plus applicable taxes, if any, for a minimum of 20 hours worked per week, and may obtain academic credit provided that they have the internship approved by the director of their program of study.
The NFB presents initiatives in line with its commitments to diversity, equity and inclusion. We urge students from all backgrounds to submit applications for the Jeunes pousses apprenticeship program.
Profiles sought
The tasks associated with each profile are subject to change depending on the choice of topic, platforms and technologies. A total of six interns will be selected among the following profiles:
One student in

journalism

,

production

,

communications

,

screenwriting

or

literature

, or a related curriculum.
You will be responsible for research, content production, writing, storytelling and editorial consistency.
One student in

cultural and media production strategy

,

film/TV production

,

digital production management

or a related curriculum.

You will be responsible for the production scheduling and budget.
You will therefore be in charge of project management and the various follow-ups required.
One student in

graphic design

,

graphic design

,

interaction design

,

visual experience design

,

production

,

visual arts

,

animation

or a related curriculum. You must have an interest in interactive and editorial design.
You will be responsible for the art direction and interactive experience as well as visual elements for social media platforms.
Two students in

interactive media

,

technical integration / technology development

,

multimedia integration

,

systems development

or a related curriculum.
You will be responsible for the interactive design, choice of technologies, creative development, content integration and skin design.
One student in a

DESS program in music

,

sound creation

, or

digital music

, OR a

"wildcard"

student.
If you're in the first category (student enrolled in a music, sound creation or digital music program), you will be responsible for sound recording, editing and mixing, as well as sound and music design for the final work.
If you are enrolled in a program other than those listed above but you feel that your application and skill scope is relevant to the internship (e.g., theatre, audiovisual, videogaming, creative writing, humanities, natural science), you fit the so-called "wildcard" profile. Send us your application and, if selected, your responsibilities as a project team member will be discussed!
Submitting applications
Interested applicants must be enrolled full-time in (Winter 2023 semester) or graduating from (Fall 2022 semester) a program of study in Canada. All applicants must provide:
a resumé;

proof of full-time enrollment in a CEGEP or university program of study;

a letter of intent (maximum 500 words) clearly stating the position(s) sought, along with a brief outline of the project they wish to submit and a few examples of past achievements—articles, a portfolio, a demo, etc. 
A committee made up of representatives of the NFB and Akufen will select applicants based on their skills and motivation. This is therefore your opportunity to demonstrate your achievements and show why you are the right applicant for this project.
Students with a primary residence outside the Montreal Metropolitan Community are eligible for housing and transportation support during their internship.
Please note! Application packages must be submitted by e-mail to jeunespousses@onf.ca with "Candidature Jeunes pousses" in the subject line.
The deadline for submitting an application is Tuesday, October 25, 2022.
Selection process
The NFB and Akufen will conduct interviews based on the documents received. 

Following the interviews, the NFB and Akufen will select the applicants who will make up the fourth

Jeunes pousses

cohort.

The selected applicants will be invited to attend an orientation/start-up day in Montreal. 
Exclusivity and copyright 
Applicants agree not to present, submit or adapt the proposal submitted in response to this call for internships to/for any other projects until the names of the selected applicants have been publicly announced. 
By participating, each selected intern assigns to the NFB, irrevocably and in perpetuity, worldwide, all ownership, distribution, exhibition and publishing rights as well as all copyright, patents, trademarks, trade secrets and other intellectual property rights, as applicable, pertaining to any material, concept, proposal, invention, software or work (including film or multimedia works), as well as to any product or process created, derived, devised or developed in the course of or in connection with the Jeunes pousses internship. The selected intern irrevocably waives all moral rights to any and all works resulting from their Jeunes pousses internship, and agrees to sign a contract for services with the NFB to that effect.
Explore past Jeunes pousses projects here: Bubble / Clit Me / Déroutes
Jeunes pousses is a creative internship originally initiated by the NFB Interactive Studio and UQAM.